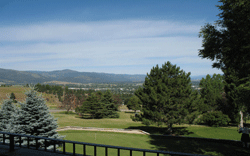 Cozy Curtains was established in January 1986 in Missoula, Montana. The business has made hundreds of insulated curtains and shades for customers all over the United States. The company also ships internationally.
Cozy Curtains manufactures the Warm Window® Magnetic Sealing System. Our custom window treatments are insulated and energy efficient. In fact, the Warm Window system has a R-factor of 8.69 on a double pane window. Your home stays warm in the winter and cool in the summer — and cost-effectively, too!
The product is available as a roman shade, hobbled shade, balloon shade, and drapery draw to the side. Cozy Curtains uses beautiful decorator fabrics of the customer choice to make a decorative, energy efficient window covering. If you prefer, Cozy Curtains can also manufacture the shades with the customer's own decorative cover fabric.
All shades come with easy-to-follow installation instructions and all necessary hardware.  See our customer testimonials page for a glimpse of why Cozy Curtains has been in business for more than 25 years!